Few days ago I received our latest Mixbook photo books. Always it's a cute surprise to receive by mail. It seems Mixbook has become my favourite photo book company simply because of the easy to use photo book making software, quality of the books, appearance and finally don't forget the price. From few years I use Mixbook for our photo books and I also saved money by using the Mixbook coupon codes which is sometimes upto 50% off. This time I used a Buy 1 get 1 free offer to order our photo books. So, I received 2 photo books at the same time. Simply it's a good deal, isn't it?
Although I've shared a Mixbook photo book review last year, here is our latest experience with Mixbook. Mother's day is reaching. If you are looking for a unique gift for your mom, wife, cousin, sister or any friend who is worth appreciating on this Mother's day, I guess a photo book can be a great idea! And it doesn't cost much considering the other gift ideas around.
Anyway, here is my review on our latest Mixbook Reviews and experience!
Playgroup memories Photo book for our kid
Few months ago I created a photo book for preserving our kid's playgroup memories. For this photo book I used the  arts and crafts photo book template and customized it using our photos. Although this photo book template shares art and crafts of kids, I used memories and moments from our kid's playgroup year.
This includes photos of his first day to Playgroup, photos with teachers, some of his favourite arts and crafts, celebrations and festival moments from Playgroup and finally the playgroup graduation photos. Completely it is a memory keepsake for playgroup year.
Check Arts and Crafts photo book here.
Year in Review photo book for 2016
I created another photo book for our 2016 memories. Last year I ordered a photo book for our 2015 memories. That was so good because we always go through these memories and enjoy precious moments. Inspiring from that experience, I created another photo book for 2016.I really love these photo books. I used this photo book template and customized it with my choices. So beautiful and so cute!
Check the Simple Gold Whimsical photo book template I used and be inspired! 🙂
With this 2 photo books, here is my Mixbook photo book review which may be helpful for you too.
Mixbook Reviews with our Photo Books  (Review 2017)
This time I ordered square shape books of size 8.5*8.5'' hard cover glossy finish photo books. The pages are thick and quality. Colours of the photo prints are natural and similar to the photos I uploaded. I ordered hardcover glossy finish, so the appearance is different from leather or premium lay flat design. However, although this is not a lay flat photo book, still it is easy to turn pages and use. If you like lay flat designs, you can upgrade your order at the time of completing the order!
Well, this is something that I need to mention. There are different size options which you can select when you create a photo book with Mix book. In my previous year order, I ordered landscape photo book. This time it is square and 8.5*8.5'' in size. When I compare the sizes and shapes of the books, I really like the recent photo books which are of square shape. These books look better in appearance than our previous landscape book which is also large in size. Anyway, that is up to you to select the best size for you. I may continue with same size even in my future orders too.
Easy to use photo book making software
Mixbook photo book software is always easy to use. I always start with a photo book template from their photo book collection. But, I customize the photo book including backgrounds, changes for fonts and letter sizes. These are really easy with the photo book software which anyone who is even a beginner can follow. This is one of the reasons for me to continue with creating photo books each year.
Check : How to create a photo book.
In this Mixbook photo book review, I can't stay away from mentioning the price. It is really reasonable comparing with the other photo book companies I worked with. Photo books starts with the rate $15.99 which finally creates a durable photo book than a conventional album. Considering the price of photo albums and costs for printing photos for the album, creating a photo book with Mixbook is really cheaper. And don't forget, printing photos is something never happen to most of us although we want to print. So, I prefer creating photo books online using the digital files. After spending few hours, it is done!
Check photo books designs starting from $15.99
Above are some of the qualities I admire while creating photo books with Mixbook. Other than that, I always love to use Mixbook coupons to save money from my orders.
Mixbook Coupons
This photo book company is awesome when considering the coupons and offers they give time to time. Their discounts are amazing and up to 50% or over. Sometimes they offer buy one get one free offers too.(BOGO).Actually this time I ordered 2 photo books using Mixbook coupons and that results me having 2 photo books for the price of one! Simply awesome!
To get the latest Mixbook Coupons, you can check below image ad.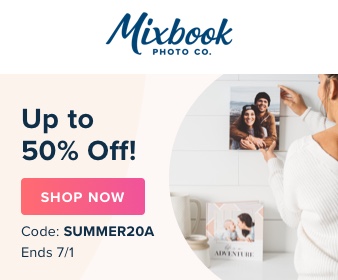 Finally, my experience with Mixbook is always awesome. I really like creating memories with this photo book company. Don't forget they also offer other items such as photo cards, home décor, photo prints and Calendars. Visit for more details. Don't forget to start your photo book right now!
Check Mixbook.comMixbook.com and start making your photo book!
Don't forget to order with a promo code.That will save you some money! 🙂
Disclosure: I received shopping credits from Mixbook  and I ordered photo books using the credits.No monetary compensation received for sharing this review.All opinions are mine.Also this post contains affiliate links.