As Mixbook is one of my favourite photo book creating companies I want to share this Mixbook Photo Book Review to help you to decide on creating your next photo albums. Actually Mixbook is not only a company which provides the facility to create photo books.They also offer wide range of products and services which are really helpful for anyone who loves creativity and who loves to organize things in a better way.
Things you can do with Mixbook
You can easily find beautiful themes and designs for birthday invitations and baby shower invitations. Not only for baby birthdays, you can also use photo printing service for other events such as your wedding or even for travel memories. Are your phone and computer full of digital photos? Why don't you think of printing some of the best photos and create photo albums? With Mixbook you can also order photo prints and the rates are really affordable. Thinking of decorating your home with some beautiful wall art? I always love to create canvas prints using my travel photos which I am proud of. Printing a beautiful canvas print is really easier with Mixbook as you can do all just by staying in front of your computer within few single clicks.
What I mentioned above are some of the things which you can do with Mixbook.com. Just by visiting the site, you can find more details of their products.If you love to create a scrapbook online,their photo book making software is really fun and easy to use.
Actually in this post, I want to share about Mixbook Photo books which I always love to create. I've shared some Mixbook reviews before and I also plan to share a Mixbook birthday photo cards review in future. Till that, here is my review on recent photo book created with Mixbook.
Mixbook Photo Book Review
If you remember, recently I shared a post about my experience on creating a photo book with Mixbook. Now, it is time to share the actual experience and review of Mixbook photobook.
Truly I love to create photo books with Mixbook. There are many reasons for me. But, to keep the post simple and short, below are some of the reasons to choose Mixbook as my favourite photo book creating company.
Use of the Mixbook photo book making software is really easy and fun. I could select a beautiful design from the available designs. What I like most is that I could insert text as I want. I could also change the design and insert some custom pages to my photo book when I create it with Mixbook.
I could create custom pages as I like.Use of stickers and text was really fun and it is a good way to write some memories on the photos.
Finally, the rates are really reasonable and shipping rates are not so high.
I also want to mention another feature I really like and which I use for my next photo book with Mixbook.
It is the facility of adding contributors. That's really helpful when we need to create a photo book together with friends and other family members.
Here is how I use that feature and why I like Mixbook so much. If you heard, recently Sri Lanka faced to an unexpected severe flood situation. Our homes were flooded too till the roof top.( http://foodcnr.com/help-victims-of-sri-lanka-floods/) Can you imagine the condition of my school day photos and childhood day's photos? All are damaged and I really feel sad. But, now I have facility of collecting the photos from my school friends who live in different countries. Using the Mixbook facility to create photo books with contributors, I started another photo book to print some memories from school days. As my other friends have their own copies; I invited them to contribute to my photo album with photos they have. It is so much fun and really helpful to collect some of my photos.
Overall I am happy with my photo books created with Mixbook and I'd like to recommend this photo book making company for anyone who likes to preserve family memories. You can easily preserve your family memories with Mixbook!
How to save money when you order your photo book?
Well, this is for those who like to save money from their shopping.
Do you know that Mixbook offers really good deals time to time?
To receive the latest updates, you need to join with their Newsletter. When you visit Mixbook.com, create an account and start creating your photo book.
While you create your Mixbook photobooks, you can keep an eye on ongoing promotions. Some promotions offer upto 50% discounts on photo book prices. Some time they also offer free shipping. They send Mixbook coupon to your inbox and when there is a great discount you can order your photo book. This is the best way to save from your photo book.
Other than using Mixbook coupon codes, you can also join with their refer friends program. That will allow you to earn $20 when your friend orders a book.
Don't you think making photobooks are really awesome way to preserve family memories?Check Mixbook and see how amazing their photo book designs are!
Use the below banner and use the mentioned latest Mixbook Coupon to get huge discounts.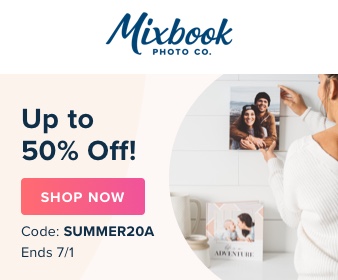 (This post contains affiliate links)
Do you like photo books? How do you preserve family memories?
Save
Affiliate Exclusive Deal-Up to 45% off site wide with code: VACAYBK