Black Friday and Cyber Monday are over. Most probably, You may have great experience and could handle quite a bit of your holiday shopping over Black Friday and Cyber Monday, however I am sure that there are a few people in your holiday check list that have not been checked off. Time is running fast and now it is time to start your holiday shopping. Don't worry, as always, Mixbook has covered you with some great last minute gift ideas! Here are some of the ideas!
Affiliate Exclusive-Buy More Save More 40% Off, 50% Off $100+,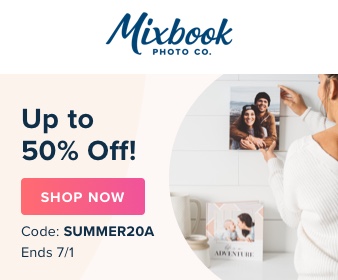 Mixbook has introduced a new type of wall art – Metal, Acrylic and Poster Prints. The industrial and cool Metal Prints still have the same vibrant colors as all others but with an edge. Rugged enough for a man cave and sturdy enough to withstand kiddo-traffic heavy spaces. They come ready to hang and won't shatter if they are dropped.
If you are looking for the perfect gift for the person who has everything, look no further. Mixbook's curved Metal Prints are your answer. With a unique curved edge, this eye catching piece will add finesse to any living or office space. Impress your hard-to-shop-for friend with this unique gift, customizable with any photo and exclusive to Mixbook's home decor collection.
Acrylic Prints have a glass-like finish with brilliant clarity. They are a sleek and contemporary eye-catching gift idea. Missing something for the friend or family member who's basement is filled with music posters from years past? Spice up their space with another customized poster to match their collection. Select your favorite image from an old road trip and you are ready to go!
Last but certainly not least, don't forget about Mixbook's Instagram books and photo prints. These quick to make books are bound to make a great gift, and you already have all the photo inspiration right on your Instagram account! Act fast to make sure that all your holiday shopping gets done in plenty of time so that your only remaining task is to relax and have some egg nog.
And don't forget to create a photo book for you too. Each year I'd love to print a family photo book with all the special moments. A photo book is also a great gift for anyone who loves to keep the memories alive!